Community Engagement & Partnerships
Here's what we're doing to engage and partner with our community, plus how you can participate!
This is a space to learn, engage and connect with community partners who will teach us about protecting the environment and other important causes. Visit the Climate Futures booth to offset your carbon footprint using the 1Planet App!

Partnering with local environmental organizations and internationally recognized sustainability experts for guidance on sustainable best practices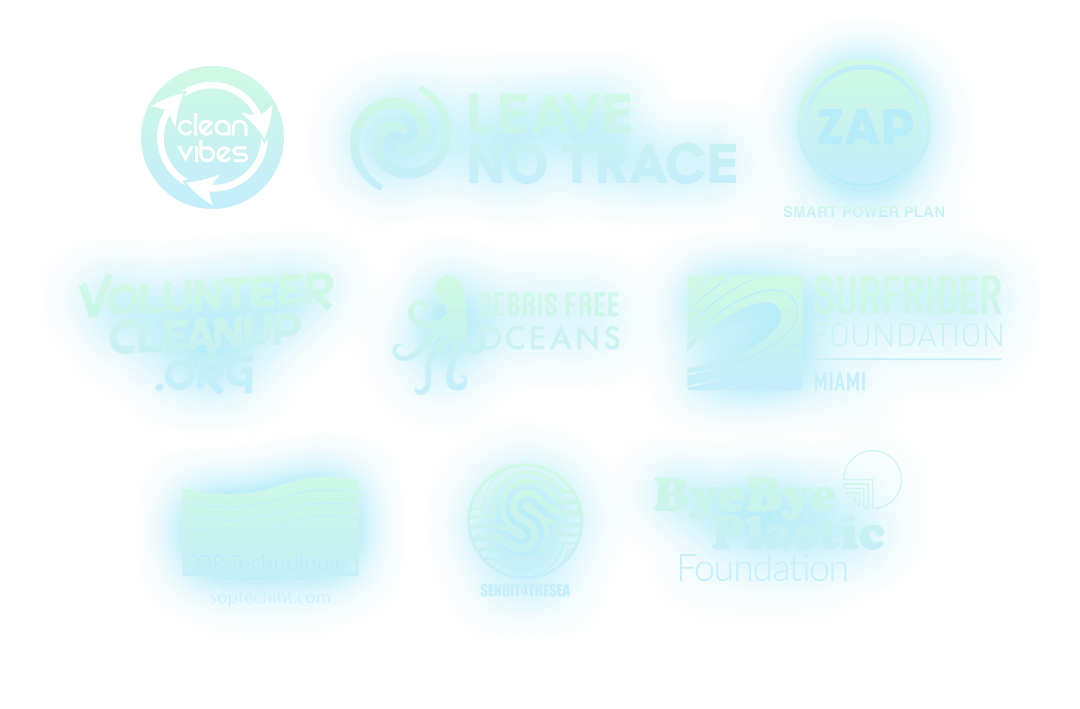 Giving you opportunities to volunteer
Our volunteer program makes Mission Home possible. Be a Mission: Home hero by signing up with Clean Vibes!.
Educating employees, vendors and staff
Our community of employees, vendors and staff will be made aware of all of our sustainability initiatives and how they can participate before moving into Bayfront Park. Together, we will bring Mission: Home to life!
Posting sustainability signage
Throughout our event, you'll see physical and digital signage reminding you to Leave No Trace, protect Biscayne Bay and participate in other sustainability initiatives.
Collecting and sharing detailed reports
All sustainability initiatives will be audited and a final report will be compiled to track key learnings and successes. Auditing these initiatives not only ensures compliance, but also builds a foundation for growth in future events.
Giving student interns and volunteers real world industry experience
Students interested in learning about sustainable event production will assist with sustainability initiative execution and auditing.
Creating this very web page and social media posts
Advanced messaging of our Mission: Home program is intended to educate our community and encourage sustainable behavior among attendees and our worldwide audience. It also shows what's possible for the event industry as a whole!
Participating in speaking engagements and education
Our sustainability team often speaks on this program and its implementation at community events in order to share insights and inspire sustainable action. Email: [email protected] for more information.
The below Pollution Prevention & Nature Preservation initiatives engage our community too!
Cleaning up the Bayfront Park shoreline with some of our favorite community organizations.
"Clean the Beat!" in partnership with Bye Bye Plastic Foundation was a huge success! With support from Send it 4 the Sea, Debris Free Oceans, Volunteer Cleanup, Clean Miami Beach and Clean this Beach Up, over 1,000 pounds of trash were removed from Bayfront Park's shoreline on March 6! Volunteers were treated to DJ sets and Ultra t-shirts. Join us next year!
Dancing while we clean
Keep an eye out at the festival for the team from Bye Bye Plastic Foundation coming around in blue Ultra super hero capes to dance with you while we all clean up our dance floors together. Participate and you might just be in for a surprise!
Learning about nature present in Bayfront Park and Biscayne Bay
Local naturalists and ecologists have taught our team about the vegetation and ecosystems present all around Ultra, so that we can work towards preserving them. Now, you can learn too by finding our "Connect to Nature" educational signage placed in special spots throughout the festival.