ULTRA Worldwide Broadens International Footprint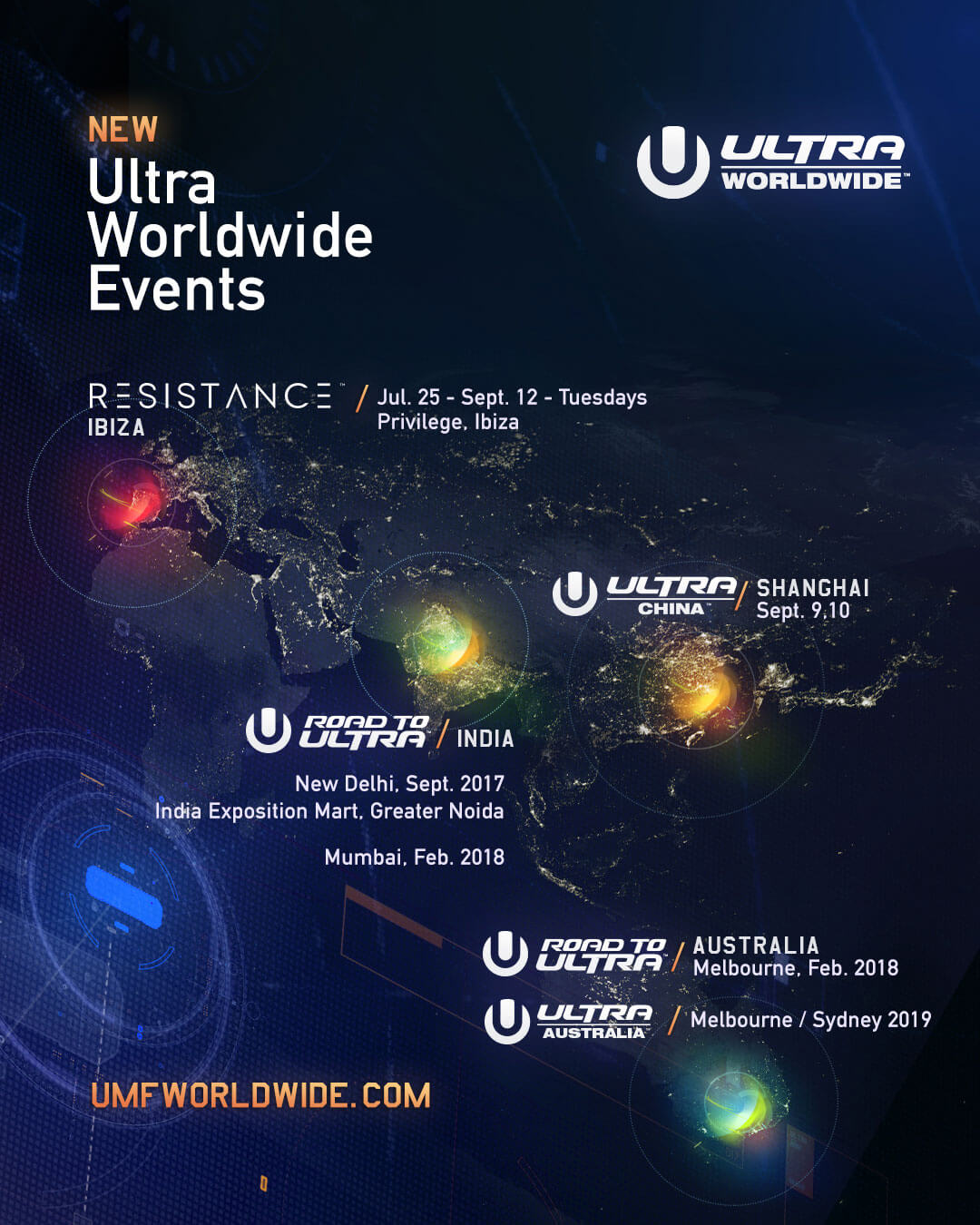 CHINA & INDIA ADDED TO 2017 SCHEDULE
AUSTRALIA CONFIRMED FOR 2018
RESISTANCE LAUNCHES FIRST SUMMER RESIDENCY IN IBIZA
ULTRA WILL BE PRESENT IN AT LEAST TWENTY-THREE COUNTRIES ACROSS SIX CONTINENTS BY THE END OF 2018
ULTRA CHINA – SHANGHAI – SEPTEMBER 9,10, 2017
ROAD TO ULTRA INDIA – NEW DELHI – SEPTEMBER 2017
ROAD TO ULTRA INDIA – MUMBAI – FEBRUARY 2018
ROAD TO ULTRA AUSTRALIA – MELBOURNE – FEBRUARY 2018
ULTRA AUSTRALIA – SYDNEY & MELBOURNE – 2019

ULTRA WORLDWIDE, the international arm of the World's Premier Electronic Music Festival, ULTRA MUSIC FESTIVAL, confirms it will be entering at least three new territories, with even more to be announced.
Having already united twenty countries across five continents since embarking upon its global journey in Brasil, the world's most international, independent music festival brand is adding Australia, China and India to its unmatched international repertoire.
On September 9-10, 2017, ULTRA will land in Shanghai for the first ever edition of ULTRA China. A full-blown two-day festival, this will mark the first time an independent and international festival brand produces an event of this magnitude in the region. Details regarding the venue, tickets and lineup will be released soon at umfchina.com.
In addition to ULTRA China, brand new Road To ULTRA events will be landing in New Delhi, India at the India Exposition Mart, Greater Noida this year, and Mumbai, India and Melbourne, Australia in February, 2018. Following the first event in Melbourne in 2018, organizers can also reveal that full-scale festivals will then be touching down in both Sydney and Melbourne for 2019. More details will be released over the coming months.
This huge announcement comes off the back of the recent news that ULTRA WORLDWIDE's burgeoning house and techno brand RESISTANCE will be heading to Ibiza for an eight week residency at the world's biggest club, Privilege, this summer, with an exclusive six-week residency spearheaded by Sasha & John Digweed. The brand's first official foray onto the island, RESISTANCE will run every Tuesday from July 25 until the official closing party on September 12. More details and artists will be revealed in the coming weeks. For tickets and further info head to www.ResistanceIbiza.com
ULTRA WORLDWIDE CALENDAR:
ULTRA South Africa (Cape Town): February 24 @ Cape Town Stadium, Cape Town
ULTRA South Africa (Johannesburg): February 25 @ Nasrec Expo Centre, Johannesburg
ULTRA Music Festival Miami: March 24-26 @ Bayfront Park, Downtown Miami
ULTRA Korea: June 10-11 @ Olympic Stadium, Seoul
ULTRA Singapore: June 10-11 @ ULTRA Park, 1 Bayfront Avenue, Singapore
ULTRA Europe: July 14-16 @ Poljud Stadium, Split Croatia
ULTRA China: September 9-10, Shanghai
Road to ULTRA Taiwan: September 2017
Road to ULTRA Hong Kong: September 2017
Road to ULTRA Philippines: September 2017
Road to ULTRA India (New Delhi): September 2017 @ India Exposition Mart, Greater Noida
ULTRA Beach Bali: September 2017
ULTRA Japan: September 16-18 @ Tokyo Odaiba Ultra Park, Tokyo
Road to ULTRA Buenos Aires: October 2017
Road to ULTRA Peru: October 2017
Road to ULTRA Chile: October 2017
ULTRA Brasil: October 12-14 @ Sambódromo, Rio de Janeiro
Road to ULTRA Australia (Melbourne): February 2018
Road to ULTRA India (Mumbai): February 2018
For full details on all ULTRA Worldwide events, visit www.umfworldwide.com
RESISTANCE CALENDAR:
RESISTANCE Cape Town: February 24 @ Cape Town Stadium, Cape Town
RESISTANCE Johannesburg: February 25 @ Nasrec Expo Centre, Johannesburg
RESISTANCE Miami: March 24-26 @ Bayfront Park, Downtown Miami
RESISTANCE Singapore: June 10-11 @ ULTRA Park, 1 Bayfront Avenue, Singapore
RESISTANCE Seoul: June 10-11 @ Olympic Stadium, Seoul
RESISTANCE Croatia: July 14-16 @ Poljud Stadium, Split
RESISTANCE Ibiza Residency: Tuesdays July 25 – September 12 @ Privilege Ibiza
RESISTANCE Shanghai: September 9-10, Shanghai
RESISTANCE Bali: September 2017
RESISTANCE Tokyo: September 16-18 @ Tokyo Odaiba Ultra Park, Tokyo
RESISTANCE Rio de Janeiro: October 12-14 @ Sambódromo, Rio de Janeiro
RESISTANCE Lima: October 2017
RESISTANCE Santiago: October 2017
RESISTANCE Buenos Aires: October 2017
For full details on all RESISTANCE events, visit www.ResistanceMusic.com