ULTRA'S 'MISSION: HOME' SUSTAINABILITY PROGRAM DEBUTS AT BAYFRONT PARK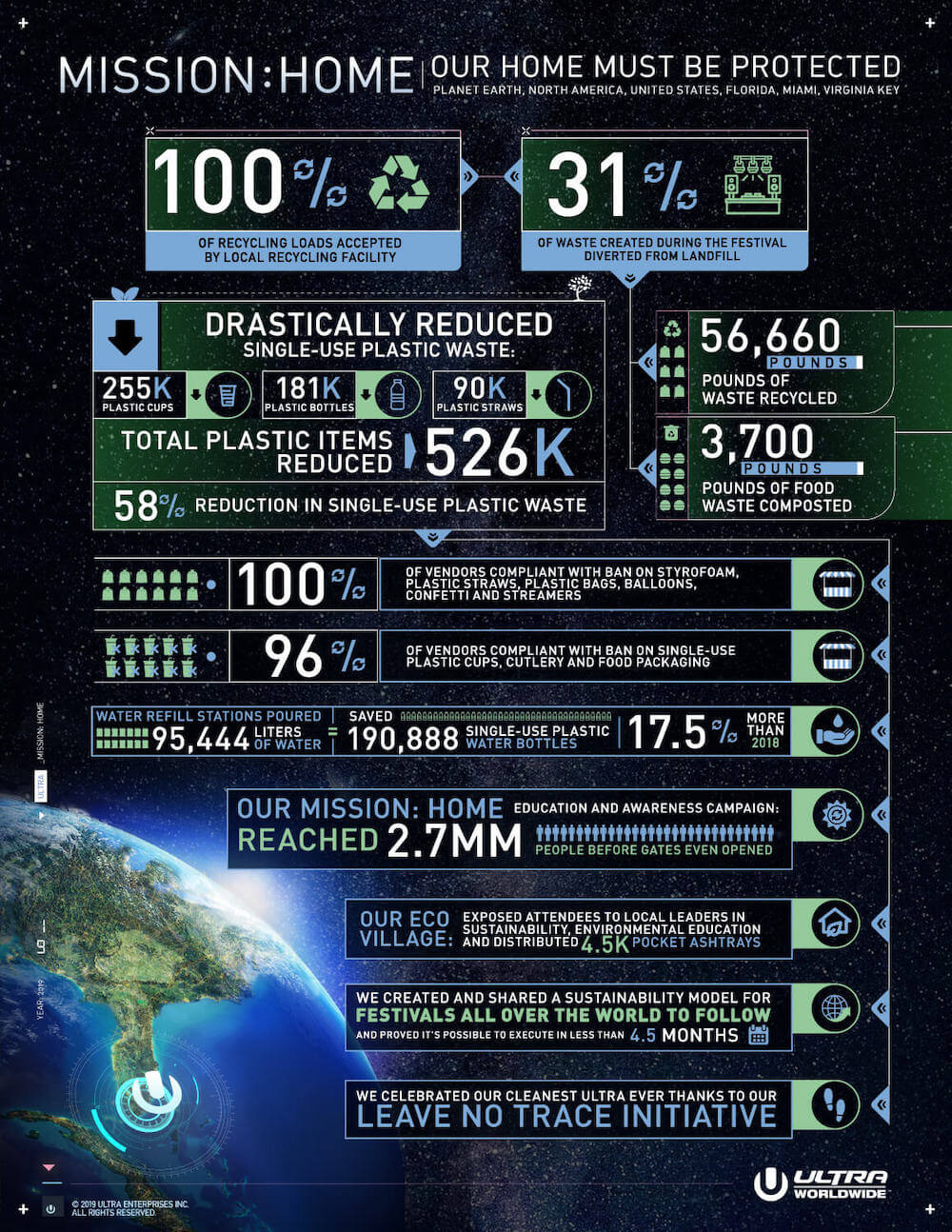 Ultra partnered with multiple environmental organizations to celebrate the relaunch of 'Mission: Home' with a shoreline cleanup on Sunday, March 6, where more than 1,000 pounds of trash were collected.
When Ultra Music Festival moved to Virginia Key in 2019, the festival launched its first-ever environmental protection and sustainability campaign 'Mission: Home.' The sustainability plan actioned unprecedented shifts in internal operations, while engaging vendors, crew, employees and attendees in working together to reduce environmental impact.
"Ultra Music Festival sets the bar in festival greening" reads the headline of an unexpected report card for the 2019 program on which the festival received an 'A.' Ultra reduced 526,000 plastic items from its waste stream, diverted over 60,000 pounds of waste from landfill and achieved an impressive 100% acceptance of recycling loads at the local facility.
When Ultra returns to its longtime home of Bayfront Park for its 2022 edition, taking place Friday, March 25 – Sunday, March 27, 'Mission: Home' will launch at the Downtown Miami venue for the first time ever. Ultra celebrated the launch by hosting a shoreline cleanup at Bayfront Park on Sunday, March 6, in partnership with Bye Bye Plastic Foundation, Sendit4theSea, VolunteerCleanup.org, Debris Free Oceans, Clean Miami Beach and Clean This Beach Up.
Over 1,000 pounds of trash were collected and volunteers were treated to DJ sets and free Ultra t-shirts. "We're thrilled to have engaged our community in taking action to protect Biscayne Bay together with so many local cleanup organizations who do this hard work year-round," an Ultra representative said.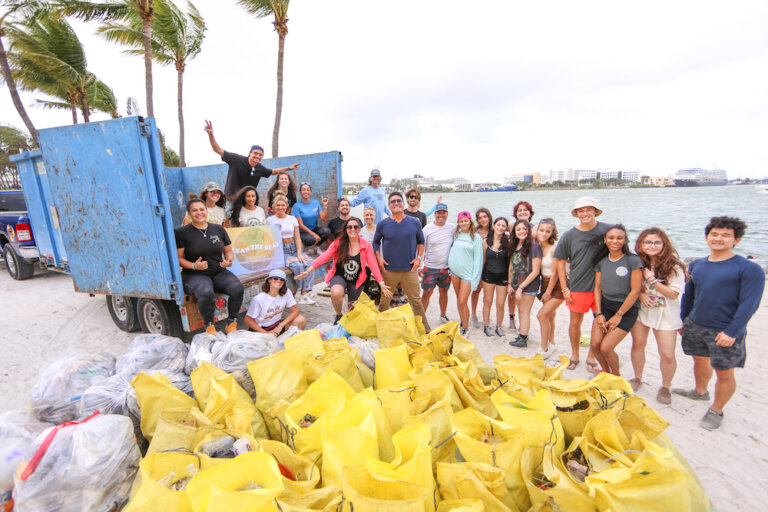 This year's festival sustainability program will bring back initiatives like the Leave No Trace campaign, recycling program and bans on Styrofoam and certain single-use plastics. It also introduces new efforts such as protections for Biscayne Bay and an energy usage assessment in addition to carbon footprint analysis and offsetting.
To protect Biscayne Bay from litter entering via stormwater systems, protection screens will be applied to storm drains inside Bayfront Park by ocean pollution prevention company, SOP Technologies. Additionally, the festival is conducting a power efficiency test run by the experts at ZAP Concepts whose 'Smart Power Plan' has been used for sustainable music festivals and tours around the world. Ultra has also partnered with Climate Futures to calculate the production's carbon footprint. Together, they will measurably reduce and offset the festival's carbon emissions. Using Climate Future's 1PLANET app, attendees will be able to learn how to calculate and offset their own carbon footprint by supporting both domestic forestry projects and local tree plantings.
The 'mission' of the 'Mission: Home' program is stated on Ultra's website as "To preserve our home, reduce our environmental impact and inspire our community to protect the planet." Since its initial launch in 2019, the program has reached over 4.5 Million people. As that number grows with each passing year, Ultra continues to utilize the power of its platform to spread this inspiring message far beyond the festival grounds.